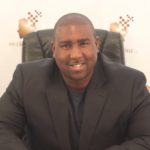 Beginning with assisting fellow students with their resumes, Rogers Vigne has always had a natural desire to help others in reaching their goals. Combined with a Bachelors in Information Systems and a Master's Degree in Organizational Leadership, Rogers' certification in Career Coaching has now become the focus of his career as he helps others find themselves and achieve their life ambitions. Rogers was interviewed by Alicia Dibrell-Williams on Business Innovators Radio where he shared more insight into how he works with clients and what he wishes to help them accomplish.
When Rogers begins working with a client, he starts by asking them the simple question of "Who are you?". Through a series of questions and activities, Rogers is able to work with his clients to assess how they see themselves and the various environments around them. By using a process of internally-focused questions, Rogers can help his clients understand and begin to frame who they wish to become. Armed with this knowledge, the client and Rogers can next begin to focus on client's environment and show how in-line it is with who they wish to become.
During Rogers interview, he mentioned that everyone starts as a product of their environments. Whether that be your family background, the type of peers you interact with, or the image you wish to portray, everyone designs themselves around their environment. With that being said, there are a several aspects of your environment that you can control. For example… the friends you choose, the music you listen to, the activities you engage in, the type of conversations you have most often and how you dress and act. Once you learn to identify and take control of these things, which are in your power to control, you will be that much closer to being able to become the person you wish to be, which includes achieving the career you want for yourself.
The final step in Rogers assessment activities involves asking them what he refers to as the million-dollar question, if they are willing to make the necessary changes in order to get where they want to be. He admits that, often times, it can be hard to change some of your lifestyle choices.  However, if you are to become the person that accomplishes your dreams, it is something that must be done. Rogers wants to bring out his client's true talents and use them as a guide to ascertain the best fitting career based on that information. He is never trying to mold or pressure anyone into pursuing something they are not interested in. He uses the answers from your assessments and conversation to develop a plan for you to live the dream career you want and have the natural talent to perform.
Rogers typically works with clients who at various stages of their career… aspiring professionals who are either in college or upperclassmen in high school, those millennials in the workforce still seeking their way, or the entrenched worker ready and willing to make a radical career change for personal fulfillment. Through coaching, he wants to help them find their way in their professional life based on their skills, desires, and passions. Whether that be a scholastic pursuit obtaining a degree, a certification, special training for a specific work, or simply finding a peripheral career path in which they can use their current skillsets and blossom, Rogers strives to find the right track for his clients. He says that he is not here to solve problems, he's here to expose the answers.  He feels that as a person becomes more self-aware of who they are, the problems will often solve themselves as they change and grow.
There is no set amount of time that Rogers works with a client. It is all based on the client's needs whether that be a few months or a year. As a career coach, Rogers sees a wide variety of problems that people struggle with. Ranging from internal self-esteem and expanding to external environment-related distractions. The important thing to Rogers is that you realize these problems and now begin work on you to be able to address them.
The name of Rogers' company is My Digital Self, LLC. To learn more about his company, you can visit his website at www.mdself.com. To contact Rogers, you can email him at coach@mdself.com or setup a time to chat at https://calendly.com/rogersvigne/15min. You can learn more about him professionally at his LinkedIn profile www.linkedin.com/in/rogersvigne. Rogers would be more than happy to set up a fifteen-minute consultation to have a meet and greet.  He is also the author of the upcoming book, "Building Your Magnet", where you can learn more about his approach to building personal leadership.
If you would like to hear more of this interview please visit the "Coaching" page on www.mdself.com
Alicia Dibrell
Alicia Williams-Dibrell is a Best Selling Author, host of Business Innovators Radio and contributor to Small Business Trendsetters and Business Innovators Magazine covering Influencers, Innovators and Trendsetters in Business, Health, Finance and Personal Development.