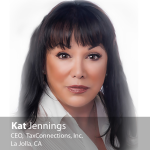 Kat Jennings, Founder of TaxConnections, is not surprised by the amazing growth of her tax education website. TaxConnections provides on-demand tax expertise to taxpayers and tax education to both tax professionals and taxpayers. For the first time in history, taxpayers will have online access to the very same tax educators that teach tax professionals. She says, "With more than 2 billion tax questions online annually, taxpayers want access to information on-demand. Taxpayers no longer want to wait for an appointment with a Tax Advisor to find answers to their tax questions. TaxConnections delivers to the taxpayer valuable tax expertise and education 24/7." TaxConnections also connects taxpayers with leading industry experts who provide tax education and expertise.
With members from more than 75 countries, TaxConnections has emerged as the leading promotional media site for tax professionals worldwide. Boasting 3 million site visitors from 210 countries and territories in the first year out of beta, TaxConnections is poised for extraordinary growth. During the past year, site traffic grew at a rate of 700% as a result of the growing interest in on-line tax education demonstrated by taxpayers worldwide.
Jennings explains, "Over the years the tax crowd has followed the success of LinkedIn forgetting that consumers are not going to LinkedIn to find tax services. Since LinkedIn charges for connections, they certainly cannot expect the consumer to pay to find them. It does not make sense that the consumer will go to LinkedIn to find their tax services yet that is precisely where many tax professionals are hanging out. Smart tax professionals are leading the way in TaxConnections Worldwide Directory of Tax Professionals. TaxConnections membership ensures consumers can freely connect to TaxConnections members. The result is a thousand times more connections between consumers and tax professionals."
Taxpayers not willing to comb through 275 million pages of cluttered search results on Google to find qualified tax professionals can turn to TaxConnections to find them with just one click. Users can search for a tax advisor who is an expert in corporate, partnership, individual, non-profit, real estate, construction, estate, entertainment, expatriate or military tax. All they need to do is type into the search box the field of tax expertise that they need help with and in one click TaxConnections provides tax experts.
TaxConnections also provides tax professionals promotional services that generate new clients through TaxConnections Worldwide Directory of Tax Professionals. TaxConnections members provide up-to-date tax information and tax education online. Tax Professionals want higher visibility in the search engines and TaxConnections provides members with an immediate boost on the search engines.
Stuart Sobel explains, "I have felt for a long time that our society and profession needs a sturdy vehicle and a driver of change to bring together the many components of an ever growing tax profession. There are talented and wise sages who need to join with the lesser experienced to share wisdom and grow the profession and enhance excellence. The taxpayer needs a place, a forum, a destination to help navigate through our confusing and absolutely frustrating tax system. There is strength, hope and accomplishment that can be achieved through collaboration and connection. Kat Jennings has that vision. She sees what needs to be done and has created a vehicle with a fantastic crew with commonality of intensity, creativity, pride, knowledge, and vision."
For more information about TaxConnections, please visit: https://www.TaxConnections.com/.