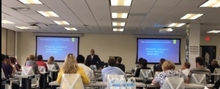 Jon's approach is simple, hack the system and get your brand in front of authorities who are going to pick it up and run with it. Clients of Jon's have appeared in Forbes, the Chicago Tribune, and on networks like ABC, CBS, and more. It is with this kind of authority that a business owner can show his clout, his gravitas, and his authority. Brand positioning and mention is half of the war in the marketing game and that means that people respect and buy from brands they see and read about. When thinking about this context is it any wonder that people are lining up to speak with Jon?
As a member of the Forbes Council, Jon is consulted on branding and marketing on an international scale. He has developed a system that allows for business owners and entrepreneurs to grow their companies and to improve their visibility in the market. Jon has worked with clients all over the world and continues to show entrepreneurs how to tap into their network and to bring their online network offline. Jon is known for his beehive events, which bring together people of a common need to solve a problem that they all are experiencing in the market.
See Jon at Mastermind Seminars in Reno on January 25, 2019 and come and learn how to take a business to the next sphere of influence and viability.
Location Info:
Ignited Results
450 Sinclair St, Reno, Nevada 89501
(775) 636-6787