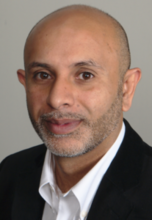 New York- New Life Vision, LLC recently announced that the book "Elite Real Estate Professionals, Top Leaders In The Industry!" reached number 1 on the Amazon Best Seller List, on the day the book debuted.
"Rick Premji's chapter was a vital and valuable contribution to the success of the book" according to publisher TC Bradley
"Rick Premji is an amazing business leader, and I am thrilled we signed him to this book deal," said Bradley.
Rick Premji is an incredible success story.
Rick came to the USA in 1996 and he has been married to his beautiful wife since 2006.
They have 3 wonderful children ages 9, 7 and 5.
Rick has a bachelors degree in Commerce. Rick has been in the retail business since 1997, owning multiple jewelry stores in TN and MD.
He had a successful convenience store /gas station in Tennessee and liquor store in AL.
Rick has also been a financial advisor since 2014 and have been in Real Estate since 2012.
Rick got into real estate in order to help others and have financial independence for his family.
When Rick was asked why he got started investing in real estate, he responded, "I will be honest, financial independence was the first inspiration for me to come in real estate because I have seen more financial independent people in real estate than in any other industry and second that I can help people. I see that people have situations and I can solve their problems for them and it make satisfying for all involved. I try to create a win-win situation, because they will sell if it makes sense for them and vice versa we will buy if it makes sense for us, so it has to be a win-win for everyone. The number 1 lesson I learned early on was to be honest and try to give them the best advice for their situation and sometimes that could be that we are not a good fit for each other. People will know that you are trying to help them and not take advantage of them."
To find out more about Rick, please visit his website, http://www.RickBuysHouses.com
"Elite Real Estate Professionals, Top Leaders In The Industry!"" is available at Amazon: https://www.amazon.com/dp/B07KD1ZRYL