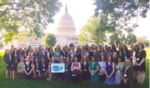 United States is the only industrialized country with a rising maternal mortality ratio, despite spending more per person on health than any country in the world. American women are dying at an alarming rate while giving birth, with life-threatening birth complications being more common in minorities. Research performed by the World Health Organization shows that black women are 2.6 times as likely to die due to a pregnancy-related cause as white women. At least 60 percent of maternal deaths are preventable.
In 2010, Christy Turlington Burns launched the maternal health organization Every Mother Counts, to heighten awareness about the global maternal health crisis. After having endured a childbirth complication herself, she directed and produced the documentary "No Woman, No Cry," highlighting the maternal health challenges that impact the lives of millions of women. "I was shocked to learn of the magnitude of the risk of maternal death after I became a mother, and I've been on a mission to end preventable maternal deaths ever since," says Turlington Burns.
In 2016 Judge Glenda Hatchett lost her daughter in law, Kira, who died due to a massive postpartum hemorrhage following what was supposed to have been a routine cesarean section. Following Kira's death, Judge Glenda Hatchett and her son and Kira's husband, Charles, embarked upon a crusade to honor Kira's memory while also advocating for reforms that will protect women giving birth and their children.
Serena Williams has also experienced important complications after the birth of her daughter in 2017 and raised concerns about doctors and hospital employees dismissing her concerns. "I almost died after giving birth to my daughter, Olympia. It began with a pulmonary embolism, which is a condition in which one or more arteries in the lungs become blocked by a blood clot. This sparked a slew of health complications that I am lucky to have survived," Williams wrote in an article for CNN.
New Jersey's first lady, Tammy Murphy, is focusing her efforts on reducing the state's high maternal mortality rates, by looking at disparities in care among African American women, including calling on health insurers to cover community based doula services.
Joy Burkhard thinks that "When mothers and children thrive, this country thrives. But, as we've seen time and time again, the needs and rights of mothers are often brushed aside, which can impact not only mom's health but the health of her children, too. It's absolutely time that this country prioritize caring for our mothers."
Christy Turlington Burns, Judge Glenda Hatchett and Tammy Murphy are three of the speakers at the upcoming Mom Congress, which will take place in Washington D.C. between 5th-7th of May, 2019.
"The 2019 Mom Congress agenda includes advocating for what Mom Congress leaders are referring to as the Momnibus bills anchored around improving maternal health and support. We'll build on the momentum of the recent successful efforts addressing maternity care. Our focus includes reversing the rising maternal mortality rates and health disparities among African American mothers, and efforts to identify and treat maternal mental health disorders like postpartum depression, paid family leave and more. We are comprised of and work with all political parties because maternal and child health transcends party politics and affects us all," says Burkhard.
Burkhard concludes that "With the Congress now including the largest number of mothers in our history, we believe it's time to build on the momentum and act now to address critical issues concerning mothers, for the future health of our nation."
Mom Congress is being hosted by a coalition of non-profit partners and boutique brands to bring moms from throughout the U.S. to the capital city to hear from inspiring change agents, to learn how to advocate and tell powerful stories, and in 2019 to address one of our basic rights as women – improved treatment and support during birth and the postpartum period.
Find more at https://www.mom-congress.com