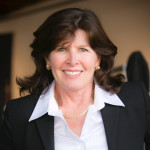 Eighteen years ago a University of Pennsylvania Wharton School graduate set forth to pursue a career befitting her educational preparation. She knew the "rules of the road," the mores of the time: "Dress for the job you want, not for the job you have" ; "The clothes make the man" ; "The clothes you wear say a lot about your personality and your ambition" and so on. Unhappy about the options available by purchasing standard off-the-rack business attire, she sought custom made alternatives, but to no avail. While it was, and has been, a common practice for male haberdasheries to offer custom-made wear, this was not the case for women. Eighteen years later, this same Wharton professional, returning to her alma mater for a Wharton women's event, encountered a young professional embarking on her own career who was faced with the same fashion void.
Linda Farquhar, the Wharton graduate from eighteen years earlier, a successful professional in Wall Street investing, and most recently the founder of entreDonovan™, is still asking "Why?" Linda's own experience as a professional woman, together with the results of her own extensive research, have produced new insights into this fashion dilemma, and combined with technological advances now available, have enabled her to open entreDonovan™, a woman's fashion boutique offering affordable custom clothing for professional women, but with a unique approach that addresses the barriers that once made this option unavailable to women.
While John Legend might be able to say "…all of me, Loves all of you, Love your curves and all your edges, All your perfect imperfections…" it is this media induced perception of these imperfections, and the complexity of designing clothes that actually fit a woman's body, that so frustrate women in general, and professional women in particular; professional women, who are striving to use their intelligence, their accomplishments, and their image (as largely defined by their attire and persona) to brand themselves, in a very competitive career market, as professionals who can succeed.
To custom make a suit, jacket, pants or entire ensemble for a man is a relatively simple matter. Measurement of the neck, chest, waist, inseam, arm length, and shoulders combined with the selection of a simple, but stylish fabric is all that's needed. For a woman, however, it is not a simple matter of measuring of the bust, the waist, the hips and the knee length. No, issues such as the knee break, the armscye, pocket placement, torso length, waist-hip ratio, and shoulder breadth have to be examined along with buttons, belts, pockets, and any other final touches that need to be sized proportionally.
Additionally, the gauge of the prints on the fabrics to be used, as well as colors that appropriately highlight or mask features, as needed, must be considered. Farquhar explains that "the research shows that fewer than six percent of women between sizes 2-20 actually fit in the standard sizes mass produced for retail." Using standard patterns from which to customize, and a measuring tape to determine all of the variations of a woman's body is no longer sufficient.
Fortunately, technology has advanced, and body scanning capability and other innovative devices are now available. Farquhar has applied these advanced applications in an innovative and unique manner that enables her to outfit today's career woman in a whole new way. The entreDonovan™ "e-style image consultation" combines the use of photographic imagery, traditional measurement, and body scanning to define the exact variations and details that will need to be addressed in the design and tailoring of a client's custom made outfit. "Body scanning is very similar to the technology used by gaming devices that reflect and mirror your every move", says Farquhar.
Over 30 measurements are taken to design a custom tailored suit, for example. Additionally, Farquhar is able to address special needs in custom made footwear, such as special widths, bunions, asymmetrical foot sizes or unusual sizes through the use of Apple's iPad technology.  For entreDonovan™, the use of technology, along with very caring and personal customer service, is the differentiator in being able to produce high quality custom made clothing and footwear. Consequently, when a customer first experiences a custom made outfit, the response is great delight, followed by, "I have never, ever had clothes fit so well," explains Farquhar.
Achieving these results and a high level of customer delight, is not just a matter of taking advantage of technology. For a woman, shopping for and selecting apparel is a very different experience than for a man. "For a woman, it's an investment because there's a lot at stake," explains Farquhar. "While for a man, it is just a purchase."
When a client comes to entreDonovan™ she is made to feel at ease and that she is not being judged because she may not have one of those photo-shopped bodies frequently seen in the media. She is made to feel comfortable. "Trust is probably the most important element in our relationship with a client because the process of being fitted exactly right is a very personal and intimate experience. Our clients want to feel confident in us, our process, and in the outcome they are expecting."
One's appearance has a significant influence on one's self esteem, as well as how others view an individual. That said, there are significant changes taking place in the norms for organizational culture and business attire. As the next generation takes over, the acceptable norms for body art, hair colors and styles will quite probably change.  However, the need to be perceived as a confident, capable professional woman and the ability to create that perception, at least in part, by the fit of one's attire, will always be a factor on that pathway to success.
To learn more about Linda Farquhar and entreDonovan™ go to: http://www.entredonovan.com/.