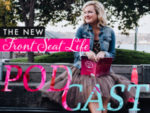 The Front Seat Life Podcast hosted by Jessica Butts, a retired psychotherapist turned Author, Motivational Speaker, and Business Coach focuses on strategies, tips, and mindset tools to help you "be unapologetically who you are" in your life, love, and business.
Jessica covers topics that have helped her changed her life, leave her marriage, start over, build new and fulfilling relationships, and start and grow a successful business.
"We are meant to live the way we were uniquely designed, I am hoping I can show people how they can accomplish this!" said Butts.
"I am having so much fun with the podcast, it's certainly an honor to be featured in Apple's New and Noteworthy. And I can't thank my listeners and supporters enough, they are the best!"
Ms. Butts now teaches corporate workshops, conducts Keynote speeches around the country, has authored two great books called Live Your Life from the Front Seat and Don't do Stuff you Stuck at. She also has a Private VIP Coaching Practice where she is a life and business coach, leads a group coaching program for Intuitive types based on a system she created called Front Seat Life

.
"It's all because I want to help people on the same path I have gone on to deep self-exploration and to Accomplish Magnificent Things in their lives," she said.
Her new podcast has been a hit with listeners on Apple's iTunes and other podcast networks. Many of the nearly 100 five-star reviews reflect a similar sentiment, noting the humorous way Jessica helps them learn about themselves and their relationships with others.
"This is so amazing… Jessica is the real deal! She cares about you and wants to help you become your best self! The content and messages are clear and told to you in a way that's authentic, inspiring, and fun," said one reviewer who signed off as FriendlyHen. "She has lived it and speaks from the heart."
Jessica Butts is Myers-Briggs expert whose mission is to inspire others to "Live Life from the Front Seat" by embracing their innateness. She shares her message around the country in her sassy, no-holds-barred entertaining manner. Leaving the corporate world after 15 years to start her own company has been the hardest and most rewarding challenge of her life. As an ENFJ, Jessica thinks outside the box, leads with her heart and is obsessively organized. She's passionate about personal development, traveling, deep connections with those in her life and helping create "A-ha's" for her clients.
The Front Seat Life Podcast can be found on iTunes, Stitcher, Spreaker, YouTube and Google Play.
The show is produced by McLean Media (https://mcleanmedia.com) and also featured on the Business Innovators Radio Network (https://businessinnovatorsradio.com).
For more information on Jessica Butts and The Front Seat Life Podcast please visit https://jessicabutts.com