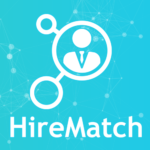 HireMatch.io  ICO presale is currently active, the blockchain based technology is poised to disrupt the legacy recruiting and job board industry. The HireMatch token reduces the cost to acquire new employees by removing unnecessary friction and creating a more efficient marketplace by providing crowdsourced labor an incentive to find, verify and submit candidates to job listings. Job boards are an essential part of the recruitment process. With employers and job-seekers alike using these boards as a primary method of getting the word out about availability, it is nearly impossible to go through the job searching process without coming into contact with a job board. These legacy sites are centralized and do very little to find quality applicants through the high-powered engine of social networks and other information sources. These sites are time-consuming and can be overly complicated for users   
HireMatch.io is built upon blockchain technology, which is a shared, programmable, cryptographically secure and therefore trusted ledger which no single user controls and which can be inspected by anyone. The organization leverages smart contracts to ensure the bounty paid for finding crowdsourced candidates that are placed is paid out to all entities involved in the hiring process. By tokenizing and decentralizing the recruitment process HireMatch can reduce the workforce resource allocation cost and promote a freer and more democratic job market. Matching is the future of the recruiting industry. This is the main reason that the HireMatch.io platform has received enormous attention from investors. HireMatch.io offers a lower cost, higher speed to acquisition, a better overall quality of applicants. 
"There will be several ways in which organizations will be able to leverage the HireMatch decentralized application; we are just excited to launch and help those companies find top talent" stated Armando Pantoja HireMatch Co-Founder.   
Hirematch also provides an open API access to their technology so integration with existing systems like an organization's ATS (applicant tracking system) or HRIS (human resource information system) can be integrated with this new robust way to recruit and source top talent. By leveraging this API model, HireMatch should see an exceptional increase in sourcing quality as well as an increase in the value of the HIRE token. 
Social recruiting or sourcing combined with blockchain technology is immensely powerful with building talent pipelines and tapping even into passive yet highly qualified candidates. With HireMatch; HR managers, business owners or agencies have the power to turn on the candidate flow as fast as they want through leveraging a global peer to peer (P2P) decentralized network of referral sources all managed on a blockchain based smart contract. 
Matthew Loughran, EMBA
Matthew is an accomplished senior executive and social impact entrepreneur in the emerging technology field. He holds a B.S. in Biology and Marketing from Loyola University Maryland, an Executive M.B.A. from Washington State University. Matthew writes about innovation, marketing, and human capital management; and is a tech radio host (Future Tech—WCKG Chicago and iHeart Radio syndicated).  Matthew is a TED Educator and contributing author to Business 2 Community, Small Business Trendsetters, Marketing Insiders, Business.com, and Thrive Global.