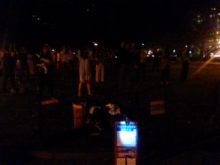 Falun Dafa, or Falun Gong, is a Buddhist meditative practice established in 1992.  Centered in the supreme Human qualities of Truthfulness, Compassion and Forbearance, Falun Dafa is said to be founded upon the principles of Natural Law at the core the development of the Cosmos. From the 1992 start of the advanced meditation practice, China continuously fights to ban this discipline of "self-cultivation," long internationally-rumored to execute Practitioners 'on demand,' according to The Independent UK. A U.S House Resolution 220 was passed to prevent genocide of Falun Gong practitioners, the bill receives continued support of the European Parliament. The discipline is also claimed as "assimilation to the highest qualities of the Universe." Stuart Liess, Epic Times, assisted with informing the Public of the Falun Dafa evening group meditation in New York City's Madison Square Park.
Ms. J Spearman - Quanta D.
Quanta D. is a Multi-Media Contributor & Journalists @ Business Innovators Magazine and Radio, syndicating Online Radio with In.Indie, Spotlight on Natural Health, In the Business of Community. Former Your-Take Contributor @ USA Today.com, Independent Journalism entailing 7 Digital News and Publishing Portals covering; the Inspirational, the Unusual and Unique originality and practice in Business, Community, Arts, Health, Wealth, Technology, International and Non-Profit events.