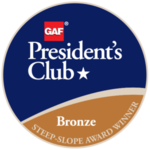 FOR IMMEDIATE RELEASE:
Athens, GA – September 22, 2018: Bone Dry Roofing Company
Bone Dry Roofing Company of Athens, Georgia, has received the most prestigious contractor award GAF offers: The GAF President's Club Award. This highly coveted award recognizes Bone Dry Roofing Company as one of the "elite of the elite" residential roofing contractors in the United States.
GAF is North America's largest roofing manufacturer, and only GAF Master Elite(R) Contractors can compete for its residential President's Club Award. To qualify for this award, a residential roofing contractor must meet specific criteria in at least one out of three different pathways:
• Performance pathway – where contractors focus on giving their property owners the best possible service, quality, and protection
• Reliability pathway – where the contractor has a long history of offering their customers the best quality and protection
• Service pathway – where contractors consistently offer their customers the best protection available in the marketplace.
To become a Master Elite(R) Contractor–a status that less than 2% of roofing contractors nationwide are able to achieve–a candidate must demonstrate proper licensing (in states that require it), maintain insurance, have a proven reputation, and show commitment to ongoing professional training.
"We value our certified contractors for raising the industry standard year after year by installing the best roofing products and systems. Our President's Club award recognizes only those contractors who have distinguished themselves by the highest standards of excellence, customer satisfaction, and dependability," says Jim Slauson, GAF's VP of Certified Program & Services.
In 2003, Bone Dry Roofing officially opened its doors in Athens, Georgia. Its initial focus was to build a company committed to becoming the benchmark for roofing expertise and excellence, with unmatched safety standards and a focus on community and industry involvement. It was also intended to be a great place for employees to work and for their families. "In 2018, we look back–and we're proud of our team and their accomplishments," says co-owner Travis Webb. "Bone Dry Roofing has grown from a start-up company with a handful of employees in a small rented basement space to more than a hundred employees." The company maintains fully staffed offices and warehouse facilities in Athens and Saint Simons Island in Georgia and in Charleston, South Carolina.
Over the years, the company has worked on a diverse assortment of jobs. These include hundreds of roofing projects on campuses across the Southeast, large industrial facilities, stadiums, courthouse restorations, large-scale projects with general contractors, custom tile projects along the eastern coast line, and an industry-leading presence in the residential shingle market. By delivering a consistent and reliable customer experience, Bone Dry Roofing has built strong relationships across its markets and amassed a growing list of awards and achievements. "The honors we receive," states Webb, "are direct testimony to the amazing individuals who make up our team of field, management, and administrative support personnel. They work together to deliver a truly unmatched roofing experience."
Since its beginning, Bone Dry Roofing has been committed to giving back to the community and to the industry. "Our team members, from the office to the field, are eager to participate, give, and serve, time and time again, whenever community needs arise with our local affiliations," states Webb. The company owners and several managers have served in positions of leadership in the roofing industry, on both state and national levels, with the Roofing and Sheet Metal Contractors Association (RSMCA) of Georgia and the National Roofing Contractors Association (NRCA). "Bone Dry Roofing has represented leadership in all of our markets, in roles ranging from the Chamber of Commerce to multiple charitable partnerships across the Southeast," adds Webb. The company, a winner of GAF's Triple Excellence Award (for consumer protection, installation, and training), is a GAF Certified SlateCrafter(TM) and NRCA member and is licensed and certified by the RSMCA of Georgia. It is accredited by the Better Business Bureau with an A+ rating.
By creating a great place to work and recruiting talented individuals, Bone Dry Roofing has found a key to success and unmatched customer experience that will lead to continued growth going forward. "Our success is a direct result of the quality of people that make up our team," concludes Webb. "Our company will continue to prosper in the future if we stick to what got us to where we are today. As long as we continue to focus on our core values, we will maintain our reputation as an excellent roofing resource for years to come."
About Bone Dry Roofing Company
A full-service residential and commercial roofing company serving the southeastern United States, Bone Dry Roofing has two core passions: investing in partnerships with shared values and a commitment to excellence in every project it undertakes. The company makes the process of achieving an excellent roofing system as painless and headache-free as possible. Bone Dry Roofing demonstrates excellence during every part of the roofing experience, with safety, trustworthiness, craftsmanship, professionalism, communication, scheduling, and cleanliness.
Bone Dry Roofing Company
POB 7756
Athens, GA 30604
(706) 543-1275
Toll-free: (855) BONEDRY
http://bonedryroofing.net
Facebook: https://www.facebook.com/bonedryroofingco/
Twitter: https://twitter.com/BoneDryCo
LinkedIn: https://www.linkedin.com/company/bone-dry-roofing-company/
About GAF:
Founded in 1886, GAF is the leading roofing and waterproofing manufacturer in North America. As a member of the Standard Industries family of companies, GAF is part of the largest roofing and waterproofing business in the world. The company's products include a comprehensive portfolio of roofing and waterproofing solutions for residential and commercial properties as well as for civil engineering applications. The full GAF portfolio of solutions is supported by an extensive national network of factory-certified contractors. GAF continues to be the leader in quality and offers comprehensive warranty protection on its products and systems. The company's success is driven by a commitment to empowering its people to deliver advanced quality and purposeful innovation. For more information about GAF, visit http://www.gaf.com