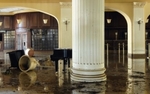 Commercial businesses can face incredible challenges when it comes to water damage and water damage restoration. That is why Blackmon Mooring & BMS CAT, experts in water damage restoration, have released a guide to best practices for water removal, damage restoration, remediation and safety. There is simply no one better to trust than Blackmon Mooring & BMS CAT.
This guide is intended to help those who may have been affected by water damage, or who may be at risk. This can include facility managers, business owners and insurance companies. It has been created for those who are not necessarily experts, so it is clear and concise and uses language that anyone can understand. Blackmon Mooring & BMS CAT have many years of experience behind it, and that knowledge is reflected in the guide.
The guide is completely free, and can be viewed at this link on the Blackmon Mooring website:
https://www.blackmonmooring.com/water-removal-restoration-guide-after-flood-damage/
The Professional Guide on Water Removal & Moisture Damage Restoration follows the guidelines set out by the American National Standards Institute (ANSI). The ANSI produces the IICRC guide, which outlines the principles behind the ethics and safety standards of the water damage restoration industry. The difference is that Blackmon Mooring & BMS CAT's guide outlines a step-by-step process for recovering after water damage.
Amanda Schooler, Marketing Director with Blackmon Mooring, states "Blackmon Mooring hopes this professional guide is helpful to commercial business owners, insurance companies, and homeowners in understanding the complete process of a professional water damage restoration project."
While the guide is a relatively quick read, it does cover a wide-range of important subjects related to water damage restoration. Safety makes up a lot of the content, since it as the heart of everything a contractor does when working on a water damaged property. In addition, it provides information on the categories of flood water, and the appropriate equipment to use in certain situations. It also provides a guide to common scenarios that can lead to water damage, which can help prevent damage from occurring in the first place.
For more information on the guide, or on water damage restoration in general, please consult the Blackmon Mooring website at https://www.blackmonmooring.com/