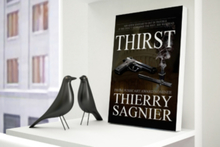 Thirst is a fast-moving thriller that also seeks to educate the friends and families of alcoholics on how addicts think, and what makes them function and go clean. It depicts the human side of a minority (addicts and alcoholics, both practicing and sober), is often portrayed in stereotypes and thought as weak or morally challenged when, in reality, they are battling a killing illness.
There are more than 25 million alcoholics and addicts in North America. Addiction is a family disease, which means that a single addict can vastly influence a family, a workplace, and an environment. Alcoholics die daily from their illness, but many do recover. Thirst aims to be educational, helping the families of addicts and alcoholics understand the disease and helping users to recover.
Thirst is the first book in the series, with two sequels planned, Dope and Sin. Dope will be published next year by Fourth Lloyd Productions.
Nancy Stodart, Publisher says "Fourth Lloyd has focused on nonfiction works to date, recognizing authors who are educating preschoolers, bringing advocacy to issues of ADHD and negative vaccine additives, and writing about life as a spiritual journey. Fiction, also has great educational value. At this time, addiction warrants our attention, and we hope that readers of Dope will find more to understand about its effects, the system of use, etc.—all presented with a wry sense of humor that borders on the absurd."
Thirst will be promoted online through Spring 2019 with a blog tour; book reviewers and bloggers interested in reviewing Thirst can reach out to the author on his website to request a review copy of the book.
ABOUT THE BOOK
A fortune in drugs is missing. Finding them starts with finding her. Colin isn't a cop. Mamadou was an excellent police officer back in Senegal, but in Washington DC he drives a limo. Josie's just a girl—a recovering crack addict fed up with Herbie, her boyfriend. But Herbie stole a shipment of drugs, and now he's dead. And let's not forget Mollie Catfish who wants it all… Now the Zulu wants his drugs, Mamadou wants revenge, and Colin wants to save his girlfriend's daughter. All Josie wants is to remember what Herbie might have told her, what the Zulu insists she knows. If she doesn't—she's dead too. Behind the polished marble of Washington DC, lies dark alleys where everyone thirsts for something.
"Sagnier builds characters as solid, gritty, and as broken as a DC street, with prose that lights up like monuments on a starry night." — Michael J. Sullivan, best-selling author of The Riyria Revelations
In response to the book hitting Number One, Sagnier stated,
"It's good to be recognized. Thirst was a labor of love. I worked in the field of addiction recovery for years, and decided to 'write what you know.' I hope the book is both entertaining and educational."
Addiction and the opioid epidemic are constantly in the news. Issues discussed in Thirst are hot topics. The book is a must-read for fans of dark, gritty fiction.
ABOUT THE AUTHOR
Thierry Sagnier is a writer and Pushcart Prize Nominee whose works have been published both in the United States and abroad. He is the author of The IFO Report, (Avon Books), Bike! Motorcycles and the People who Ride Them (Harper & Row) and Washington by Night (Washingtonian Books). His short story, Lunch with the General published in Chrysalis Reader, was nominated for a 2013 Pushcart Prize, an American literary prize by Pushcart Press that honors the best "poetry, short fiction, essays or literary whatnot published in the small presses." He is also the author of two online works.
In 2016, The Fortunate Few was published by ICAM Press. L'Amérique, a coming of age novel, was published by Apprentice House Press of Baltimore in October 2018.
Apprentice House will also be publishing Sagnier's historical novel, Montparnasse in October 2019.
Thirst is a thriller based in Washington, DC's mean streets. Writing about People, Places and Things is a collection of essays chronicling Sagnier's thoughts on writing, family and friendships, and his bout with cancer. Montparnasse, a novel set in Paris in 1919 will be published later this year, as will Dope, a sequel to Thirst. Thierry Sagnier was born in France and came to the United States in his early teens. He has worked and written for The Washington Post and several other newspapers and magazines, produced videos and short films for the Canadian Broadcasting Corporation, and was a columnist for Canada's Le Devoir. He currently lives in Virginia.
http://www.sagnier.com/
Thirst is available for purchase on Amazon.com at https://www.amazon.com/dp/B00UG9EHXQ