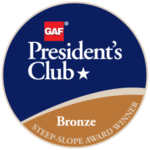 FOR IMMEDIATE RELEASE:
Caldwell, ID – December 12, 2018: Upson Company
Upson Company of Caldwell, Idaho, has received the most prestigious contractor award GAF offers: The GAF President's Club Award. This highly coveted award recognizes Upson Company as one of the "elite of the elite" commercial roofing contractors in the United States.
GAF is North America's largest roofing manufacturer, and only GAF Master Select(TM) Contractors can compete for its commercial President's Club Award. To qualify for this award, a commercial roofing contractor must meet specific criteria in at least one out of three different pathways:
Performance pathway – where contractors focus on giving their property owners the best possible service, quality, and protection
Reliability pathway – where the contractor has a long history of offering their customers the best quality and protection
Service pathway – where contractors consistently offer their customers the best protection available in the marketplace.
To become a Master Select(TM) Contractor–a status that less than 1% of roofing contractors nationwide are able to achieve–a candidate must demonstrate proper licensing (in states that require it), maintain insurance, have a proven reputation, and show commitment to ongoing professional training.
"We value our certified contractors for raising the industry standard year after year by installing the best roofing products and systems. Our President's Club award recognizes only those contractors who have distinguished themselves by the highest standards of excellence, customer satisfaction, and dependability," says Jim Slauson, GAF's VP of Certified Program & Services.
According to company president Steve Upson, Upson Company takes care of its employees by promoting from within its own labor force. "We're a family-owned business," he explains, "and we offer a unique apprenticeship program to help employees reach their professional goals, from general laborer to journeyman roofer. This yields experienced craftsmen who are skilled in the application of a full range of roofing systems."
With a unique and positive brand reputation, the company is highly recognized in its market area. "Often, customers tell us that they've seen our trucks," says Upson. "Over the years, we have developed a tremendous amount of trust and confidence, and our customer service is recognized as top-notch. Our longevity in the community and our unsurpassed quality are the top selling points to our customers. We also take great pride in our safety record."
In addition to its roofing services, the company operates a sheet-metal shop that is equipped to handle any project, from standard fabrication to custom artistry. Upson Company's repair and maintenance division is available 24 hours a day to take care of customer emergencies and to plan ongoing programs to keep roofs in top shape.
Aside from its recognition as a President's Club Award winner, Upson Company has received several professional certifications from GAF. The Asphaltic Certification indicates that it specializes in installing asphaltic roofing systems, and the Single-Ply Certification indicates a specialization in installing single-ply roofing systems. With the Topcoat Certification, Upson Company is recognized for specializing in the installation of GAF's TOPCOAT(R) products–liquid-applied roofing restoration systems formulated to stand up to the harshest of roof conditions and provide energy savings at a fraction of the cost of a new roof.
In the community, the company has supported many charitable efforts, including the Wounded Warrior Project, Idaho Youth Ranch, YMCA, and local church activities. As a GAF Certified Maintenance Professional, Upson Company can offer GAF's WellRoof(R) Guarantee Extension, designed to reward customers for establishing an annual inspection and preventative maintenance program. The company is rated A+ by the Better Business Bureau.
The company continues to move forward, with a revised website, a state-of-the-art trash containment system, and new offerings in roofing applications. "We plan to grow our negotiated work and increase our relationships with property managers, maintenance plans, and construction customers," concludes Upson. "Going forward, we'll build on our past successes."
About Upson Company
With more than 40 years in the commercial roofing industry, Upson Company has built up an impressive project portfolio that displays a broad range of roofing experience. The company's expertise includes work on medical and educational facilities, industrial, commercial, and retail complexes, government buildings and military facilities, special-event centers, museums, and historical buildings. Serving Idaho, eastern Oregon, and eastern Washington, Upson Company has the experience and knowledge to meet all of its customers' roofing needs.
Upson Company
4512 E. Ustick Rd.
Caldwell, ID 83605
(208) 459-6978
upsoncompany.com
Facebook: https://www.facebook.com/Upson-Company-1454856051443493/
Twitter: https://twitter.com/UpsonCompany
About GAF:
Founded in 1886, GAF is the leading roofing and waterproofing manufacturer in North America. As a member of the Standard Industries family of companies, GAF is part of the largest roofing and waterproofing business in the world. The company's products include a comprehensive portfolio of roofing and waterproofing solutions for residential and commercial properties as well as for civil engineering applications. The full GAF portfolio of solutions is supported by an extensive national network of factory-certified contractors. GAF continues to be the leader in quality and offers comprehensive warranty protection on its products and systems. The company's success is driven by a commitment to empowering its people to deliver advanced quality and purposeful innovation. For more information about GAF, visit http://www.gaf.com