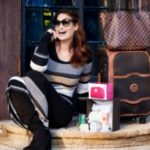 US Wellness Designer, Lifestyle Coach and mother of three, Kimberly Keller, launches her FLOW programme in a revolutionary book curated from the vast teaching and learnings of life on the road. Keller challenges our stigma and our secret habits; offering digestible and feasible advice to compliment even the busiest of lifestyle's.
FLOW is the culmination of Keller's extensive career in travel and wellness. She shares the four segment program of Fitness, Lean, Oxygen, Wherever Meditation in the book 'Ultimate Health On The Go'. Keller includes a variety of practices to customize with ease while supporting the programme with psychological analysis an international case studies.
45% of US New Year's resolutions are to lose weight and get in shape. With 80% of those resolutions failing by February, Keller has created the perfect ebook travelers can take on the road with easy-to-implement advice.
Keller's work surrounds the premise that our society has become accepting of travel fatigue, without taking the intuitive responsibility to make active choices to prevent this. With heavy business travelers reporting a rise of 92% in depression and obesity due to their unconventional lifestyles, the FLOW programme is Keller's four step healthy active choice system to eradicate the socially accepted fatigue.
The book 'Ultimate Health On The Go', opens with an introduction into the effects travel has on our mind and body before an advice rich guide to traveling healthy. The Fitness chapter reveals ways to stay active without needing a daily gym visit.
Readers with an appetite for food on the go will enjoy Keller's nutritional benefits within common social scenarios. 'Ultimate Health On The Go' is packed with checklists, handy tips and real-life case studies.
Keller states, "Almost every single one of us can be benefited by this new wave of self care. What if I told you that you could stay healthy while traveling. You can be productive, well, happy, and feel the best you've ever felt." The Wellness Designer and Coach continues. "As an extensive traveler, I combine my own teachings with the learnings and teachings of industry leaders and science data. This makes for a foolproof formula for greatness and self acceptance. This is not an impersonal, cookie cutter or straight formula, but an invitation on a one on one basis to explore yourself within these pages."
The book 'Ultimate Health On The Go' launches on Kindle in March 2019.
Find more about Kimberly Keller and the book at: www.kimberlykellerintl.com.
About Kimberly Keller
Kimberly Keller is a Lifestyle, Wellness and Travel Designer based in St Louis, USA. She educates and coaches individuals to follow their healthiest path in life.
Keller has over 20 years experience earning an array of certifications including Master of Wellness Design, Balanced Body Pilates, ISSA Personal Training, Kettlebell, Piloxing and Reiki. She was a spokesmodel and Fashion Model traveling the world for over 20 years. The innovative approach Keller takes to lifestyle coaching helps her clients create balance in their busy personal and professional lives.