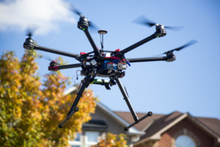 Chris Munson, owner of ACC Roofing, is a fully licensed commercial drone pilot and is out to help local homeowners as another violent Texas spring approaches. Drone photos combined with AI, or "Artificial Intelligence," software generates damage reports in real time. They can be submitted directly to the insurance company ensuring fast roof replacements and roof repairs when homeowners need it the most. Some insurance carriers even accept the reports to directly process claims. As one of the top roofing contractors in Arlington, TX, Munson knows by experience that these latest tools are extremely valuable in eliminating errors, preventing roofing scams, and providing peace of mind. Especially to those that have two story homes or steep roofs that are difficult and unsafe to walk on.
"We see homeowners desperate to get their property evaluated quickly after a storm, but climbing a roof is dangerous and they have no easy way to know if their roof has damage" says Munson. He states further that "They are vulnerable to incomplete and inaccurate 'Free Inspections' where only a couple of pictures may be taken or even worse no pictures are taken at all. Homeowners are left to take the contractors word for it. This sometimes leads to frivolous claims hoping that the insurance company will pay for marginal damage. We want to change this part of the industry by offering something completely unique, safe, and reliable."
George Mathew, CEO and Chairman of Kespry, an industry expert in drone-based aerial intelligence solutions, shares Munson's vision and passion for this technology that truly benefits homeowners.
Mathew states that "For insurance carriers and their clients, the faster an accurate roof damage assessment can happen, the better. 'Touchless' claims will rapidly become the industry standard."
When a homeowner experiences or suspects roof damage from hail, wind, fallen trees, or fire, a quick call or visit to ACC Roofing online is all that is needed for a no-obligation 100% FREE drone inspection.
Using our drone, multiple pictures of the roof are taken from many perspectives. These images are fed to an advanced software package and AI database. It has the ability to scan and analyze millions of pictures and determines whether there is damage on a roof with amazing accuracy.
There is no waiting and the homeowner is immediately provided a damage report that can be used to initiate a claim and get the repair process for their roof started quickly.
ACC Roofing is an award winning 5 STAR roofing company and one of DFW's most trusted roofers for over 25 years.
"Chris and his team were great. They came out and inspected my roof in a timely manner. They used a drone to assess the hail damage to my roof. They even showed me pictures so I could see exactly the extent of the damage. I was really impressed with the professionalism they showed and will used them in the future. Thanks Chris!" says local homeowner Shannon S.
" After the hail storm we had several roofers knocking on our door, but I choose to go with ACC because they were offering something no one else was. The drone inspection let me see what the actual damage was and if I needed to file a claim or not. It also saved me from having to get on my roof which is two story and really steep. I will choose ACC for all my future roofing needs" adds new customer Daniel M.
To learn more about ACC's residential and commercial roofing services please contact us at (817) 799-7663 or visit us online at www.roofingdfwtx.com
Location Info:
ACC Roofing
2411 Medlin Dr, Arlington, TX 76015
(817) 799-7663