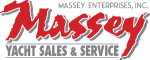 St Petersburg, Florida- December 1st, 2019- Massey Yacht Sales & Service is excited to announce their exhibit at the St. Petersburg Power and Sailboat Show in St. Petersburg. The highly anticipated event will take place on December 5-8, 2019. The industry-leading yacht brokerage house will have on display products both in-water and at their interactive booth. Visitors can check out amazing deals on the latest new and pre-owned yachts for sale, as well as learn about yachts, boating, and more.
2019 marks the 42nd annual St. Petersburg Power and Sailboat Show. It is one of the most anticipated trade shows for boat and yacht sales. Massey Yacht will have crafts on display in Catalina's waters. Their team can also be found at their spacious 10'X20′ interactive booth. Their booth, number 386, will be located in Tent 2 on Slip 33. You can add them to your walking list of the show here.
This is an excellent opportunity for anyone looking to purchase a new yacht to view available inventory, first-hand, and speak with the top brokerage house, Massey Yacht.
A representative for Massey Yacht Sales & Service had this to say about the upcoming trade show, "The St. Petersburg Power and Sailboat Show is an event we look forward to all year long. We get to connect with the public and educate them as to who we are and how we can help them. Our mission is to help you find your dream yacht at Massey Yacht."
The St. Petersburg Power and Sailboat Show are located at 400 1st Street South, St. Petersburg, FL 33701. Average ticket prices are $19, children under 15 are free, and active duty or retired military are free with proof of service. The gates open promptly at 10 a.m. each day. Massey Yacht will be available all day to answer questions and to assist the visitors with finding their ideal craft to match their lifestyle and budget.
About Massey Yacht Sales & Service
After nearly 40 years in the industry, Massey Yacht has been dedicated to customer service and helping customers find the boat of their dreams. They have three marina locations, including Palmetto, St. Petersburg, and Stuart. As a top broker in Florida, the company has sold and delivered more than 4,000 yachts ranging in sizes from 28'-62'. Their brokerage business has grown significantly in the last seven years. Massey Yacht Sales & Service has earned the title of top brokerage house for yacht sales, 30' to 55', in Florida for 2019.
For more information about Massey Yacht Sales & Service visit https://masseyyacht.com. For questions please call (727) 824-7262 or email yachtsales@masseyyacht.com.
Location Info:
Massey Yacht Sales St. Petersburg
101 16th Ave S #2, St. Petersburg, FL 33701
(727) 824-7262