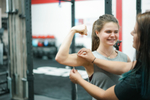 [ST. PETERSBURG, FLORIDA July 2019—] Seriously Strong Training St. Pete just received the machine that will allow you to train smarter not harder. The Inbody 270 body analyzer can complete an entire body composition scan in the same amount of time as a simple weigh-in.
The InBody 270 scans for fat percentage, bone weight, muscle mass, and body water levels. No more pinching, being dunked in a water tank, or other inaccurate measurements. In 15 seconds, you'll have better results all while simply standing on the device and holding the hand electrodes.
You can then use this information to tailor your training schedule and address your individual composition.
Over 2500 scientific studies have used these same machines for their analysis. Now, this data can be yours at Seriously Strong Training.
You'll be able to see the results of their trainers work in real time. You can see your fat percentage decrease and your muscle mass increase at every scan.
Seriously Strong St. Pete wants you to have the most accurate data possible. They are offering this new service to give you a deeper understanding of your fitness and raise the bar on your goals.
Seriously Strong Training is a professional personal training gym that offers one-on-one personal training at all levels of fitness. To those just starting out, to veteran body-builders, Seriously Strong Training can take you to the next level of fitness.
Location Info:
Seriously Strong Training St. Petersburg
533 28th St S, St. Petersburg, FL 33712
(727) 273-5066