Listen To This Article
Online company stores are becoming increasingly popular in today's organizations. Most people know that companies like Google and many others have online merchandise stores that sell all kinds of branded clothing, swag, and company branded items.
While not all companies can be Google, many organizations today can benefit from using an online company store – including small and medium size businesses, large corporations, and even schools, recreational facilities, or nonprofit organizations.
An internal company swag store is meant to help you revolutionize your swag management and make it easier and more cost effective for your organization, so your swag starts to work for you.
Recently I spoke with Bonni Shevin-Sandy the President of Diversity Promos and Tera Jenkins the Vice-President of Diversity Promos and they both shared 10 reasons why you may want to consider having an online company store.

Reduce Costs
Better Logistics and Shipping
Company Stores Give You Options
Maintain Brand Consistency
Data Insights
Support from Swag Professionals
Lower Cost Marketing
Build Brand Champions
Centralize Internal Merchandise Needs
Help Your Employees Feel the Love
Online Company Stores Reduce Costs
Company stores reduce costs for swag and merchandise in several ways. First, a company store gives your departments a central location for them to order merchandise, thus saving time on finding different suppliers, working through designs, comparing prices, and tracking down orders.
In today's organizations, time is money and the less time it takes for you and your people to get their swag, the more time they must focus on the important aspects of running your organization.
Also, through using a company swag store supplier such as Diversity Promos, where you can often get better deals on pricing through utilizing the swag store company's supplier partnerships and bulk discounts.
Better Logistics and Shipping
Managing merchandise through your own store allows you to outsource all of the hassle of designing the product, dealing with order forms, tracking down different orders, as well as coordinating shipping and swag storage. A company swag store makes all of this easy by allowing you to design your merchandise in advance and placing it in your store.
You can then place your order through the website and select your shipping options so that items get there exactly when you need them. It's as easy as ordering on Amazon and it's all your own. And with a company store you can get much faster turnaround times on orders, even comparable to shipping with Amazon Prime!
Online Company Stores Give You Options
With a branded company store, you can design and order from thousands of different items and customize them with your logo and brand messaging in a matter of minutes. Company store platforms have the connections to be able to provide hundreds of different items to choose from, from knick knacks like pens and cups to a wide assortment of clothing and other accessories.
You can customize the item's color to match your brand and can order many different items at the same time to have them shipped to one location. With the wide variety of customization available you can truly customize the product to fit your needs. Truly, with an online store the options are endless.
Maintain Brand Consistency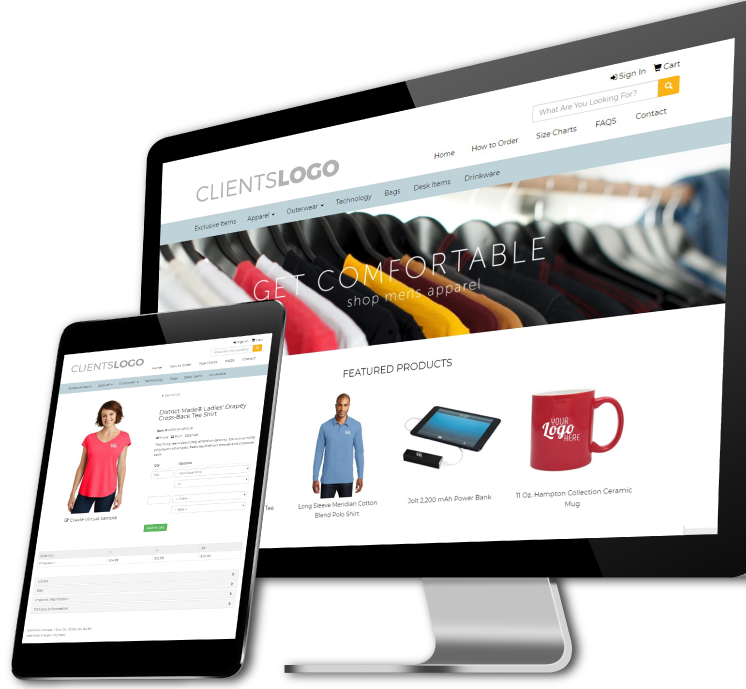 Maintaining the consistency of your brand is key to keeping your brand's value and recognition clear in customer's minds. When ordering swag you want to make sure that the logo, design and messaging all work together to build your brand rather than looking like a cheap knockoff. In a large organization with different departments ordering from different suppliers you can't always control all aspects of the design and messaging to ensure your brand remains consistent.
But with a company swag store, you can design the messaging and colors yourself and use your own logo and assets to make sure that all of your items convey the message of your brand to your customers and employees. No more knock off items that misrepresent your brand. Instead, no matter how large your organization, you can keep your messaging consistent with a centralized swag management solution provided by Diversity Promos.
Data Insights
One of the most important benefits is the ability to use data to track your swag usage including what items are most popular and which items don't work as well for your organization. The ability to use data through the company store platform allows you to reduce unnecessary waste in ordering products that people won't use and thus save on cost that could be better spent building your business.
Everyone knows of that company that has the big box of old swag in the back room that has sat there for years because people didn't know the right products to buy to please everyone. With an online company store, you can use the system's purchase data to make informed decisions about your merchandise purchases and make the most out of your merchandise budget.
Support from Swag Professionals
Online company swag store with Diversity Promos gives you the ability to access help from a dedicated team of professionals who can help you with your swag efforts. Instead of having to haggle with suppliers or wonder who to call to get answers to your questions, the Diversity Promos team of consultants that can help you manage your swag store to get the most from your investment and troubleshoot any problems that you may have.
If you ever have an issue with an order or questions about product design, a dedicated account manager is there to help you at any time, and with one easy click or call you can get back to your day knowing that your swag is in good hands.
Lower Cost Marketing
Company swag can be a great and easy way to provide low-cost marketing. If your organization participates in trade shows or expos, or sponsors or supports an event, swag can be a great way to promote your name to event attendees in a low-cost friendly way.
Everyone likes a little free swag, and through these items your name is now being broadcast to the world. And by using a company store, you can reduce the costs needed to get that merchandise and still have the best swag at the event.
Build Brand Champions
In addition to low-cost marketing, internal store platforms help you use swag to build brand champions for your organization. When an employee or customer gets their trendy T-shirt that looks nice and well designed, they will wear that shirt for years to come.
Not only are they now a bigger fan of your brand, but they also now showcase your name to all of their friends and associates as well. We see merchandise with a company name on it almost every day, and without having to spend a dime on a billboard or online ad, you have a walking testament of your brand that advertises for you for years.
That is the power of swag, and when done right, it can be a great asset to a company's image, name recognition and ultimately, the bottom line. Doing all of that, with the simplicity of a centralized online company swag store makes it all the easier to utilize the power of swag to build brand champions.
Centralize Internal Merchandise Needs
Does your organization need company uniforms for employees?
Or are you perhaps a nonprofit looking to get merchandise for your fundraising campaign?
Organizations often need internal branded merchandise to help support their operations and an online company store makes getting uniforms and internal merchandise much simpler. Departments can go online and order the exact items they need and in the exact sizes or quantities.
Employees can even go online themselves and order new uniforms and other items when necessary. This simplifies the process of having to go through management to get uniforms and other items for employees and frees up employee and manager time to better focus on their real jobs.
Help Your Employees Feel the Love
Most of all, you are nothing without your people. Every organization knows that without the right people in the right seats on the bus, the organization will go nowhere. So let your people know how much you appreciate them!
One great way to do that is with a small gift of company swag as part of a rewards incentive program or just as a credit to the company store for a job well done after a quarterly review. Sometimes small gifts are all it takes to send a message that you are valued and appreciated, and employees who feel valued and appreciated for what they do will be engaged in that organization's mission and propel it forward towards success.
Having a company swag store is a great way to make this type of a rewards or incentive program easy, painless, more meaningful, and even fun! Employees can use their credits or points to choose the gifts that they value most from the many options on the company store and without time or hassle you will have sent the message that you value your people's hard work.
Summary
Company stores aren't just for big business. An online company store can be an asset to a wide variety of organizations from small to midsize businesses to large corporations and even schools and nonprofit organizations. These are some valuable reasons for why a company store may contribute to your organization's mission and goals.
However, to discover if a company store is really right for you, consider contacting the experts, Diversity Promos, we can help answer your questions and see if online swag is right for you. Visit www.diversitypromos.com or email Tera Jenkins directly at tera@diversitypromos.com
Small Business Trendsetters Contributor
Discovering Innovators and Leaders in Business, Technology, Health and Personal Development.