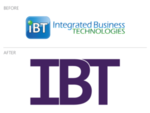 "Our company has really grown and evolved over the past few years, and we felt it was time for a change," said Eric Kehmeier, President of IBT. "We have refreshed our brand identity to better reflect who we are today and symbolize our future."
The new logo was designed to simply display the three letters that the company is most commonly referred to as – IBT. The color purple was chosen because it provides the stability of blue and the energy of red. Like blue, purple is a calming color that can help to make wise and thoughtful decisions, which describes the culture of the IBT team.
The newly-redesigned website features easy-to-navigate pages and updated, simplified messaging. It reflects the new brand identity and showcases the company's advantages and competitive strengths. The improved functionality and enriched content areas will also help businesses make well-informed decisions about their technology needs and goals.
"While our name remains the same, our company logo, colors, and website have changed significantly to better represent who IBT is and what we offer our clients," said Daniel Brooks, Executive Director of IBT. "Our new identity is straightforward, modern and professional – words we would use to describe not only our image but also the solutions we provide to companies who are looking to drive their business forward."
IBT would like to encourage everyone to explore the new site at www.IBTsupport.com.
About Integrated Business Technologies (IBT)
Since 2007, IBT has helped small and medium-sized businesses in Oklahoma align their technology needs with their business goals. IBT offers clients enterprise-level solutions, including managed services, backup & disaster recovery, cloud computing, and procurement.
For more information, visit www.IBTsupport.com.