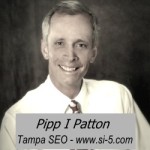 Pipp I. Patton with www.si-5.com, the SEO website for Big Rhino Strategic LLC, announces its 'New SEO' service to allow local businesses to dominate search results in their market, resulting in a great increase in visitors to their website. "I talk with local businesses every week and I find that online marketing is confusing for them. SEO, authority and reputation marketing, social media marketing, video marketing and web design – in most cases these local business owners just don't know what to make of it all, so they may have a website but have no online marketing effort," said Patton. "We offer what I call 'The New SEO' which ties all five online marketing ingredients together. Now they can do something different and dominate local search for their market…and we know that is where most new business comes from."
Steve Jobs, former head of Apple echoes Patton's statements about the importance of businesses being different or innovative. Jobs said, "Innovation distinguishes between a leader and a follower." Big Rhino Strategic has developed a new way approach to dominating local search. It is not just about SEO, although that is an important part, but also about other online properties that can business can rank in order to dominate page one of search results; social media, video, authority and reputation among others. These properties can rank on page one, but when set up properly also strengthen the entire online presence for a local business. For example, if your Facebook page is set up properly it will strengthen the authority of your website.
This is not a simple process, but is effective and Patton has been providing this service to local business for years. "I started working with Pipp to improve my online presence for local organic search. He did a great job, it did not take long, and I now show on page one of Google for all my important search categories in both my market areas. And I regularly see new patients as a result," says Dr. David Dahmer, from Family Chiropractic Health Center in Brooksville, FL.
Client, Richard Mitzel, PA, a Personal Injury Attorney from Tampa, FL said, "I met Pipp about three years ago. Having recently opened an office in Brooksville and needed an online presence. Pipp built a website for me and created a strong local search presence for me. I now appear on the first page of search results for all my important keywords on Google and the other major search engines. Additionally, we are doing online video marketing allowing me to have another spot on page one for many of my keywords."
For more information about 'The New SEO,' you can contact Pipp Patton at (813) 321-3390 or visit http://www.si-5.com.