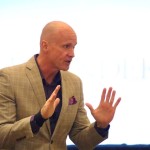 Dr Ron Eccles, Sarasota, Florida is helping entrepreneurs define success for the first times in their life, so you can finally unlock happiness. Dr Ron Eccles is an international speaker and success strategist for entrepreneurs and business owners who are seeking to take their life to the next level based on his four pillars approach.
"Most people are busy grinding through life chasing this myth of success when they haven't taken the time to define what success means to them. As soon as you stop and define what success actually means to you, it is amazing how fast you can achieve it" says Dr. Eccles. "I personally teach people about unlocking success in the four pillars of life being Finance, Health, Relationships and Spirituality."
Tony Robbins, Best Selling Author, Personal Development Speaker, defined success as momentum either good or bad. "People who succeed have momentum. The more they succeed, the more they want to succeed, and the more they find a way to succeed. Similarly, when someone is failing, the tendency is to get on a downward spiral that can even become a self-fulfilling prophecy."
Dr. Eccles explained that "even in todays bad economy you can experience greater success in the four pillars than you did last year. If you take the time to strategize and define what success means to you, you will be amazed at how quickly you can transform your life. The problem is that most people are chasing someone else's definition of success and that is why you feel burnt out, exhausted and feel like you are on that emotional hamster wheel not getting anywhere. But that does not have to be how you experience life."
Dr Eccles has been a mentor to people around the world for the last 10 years and has helped hundreds of people experience happiness and success in their lives.
Mike Lewis Author, Speaker, Publisher said "Most Success coach's don't practice what they preach. Dr. Ron is the real deal! He is one of the most congruent coach's I've know in my 30+ years experience in this industry. He has inspired me with his ability to get right to the cause of why I was stuck and because his coaching, I experienced a real breakthrough that put some real money in my pocket"
Attorney Susan Stockham stated "Dr Ron's coaching, wisdom and guidance has helped me navigate some extremely tough decisions I had to make in business and in life. His inspiring care and love for others has helped my two sons. My youngest was blown away at his knowledge and insight in business matters and has received life changing breakthroughs working with him while he was in college"
If you want more information about the The Success Doctor Dr Ron Eccles you can visit http://www.conquermyeverest.com