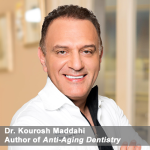 Dr. Kourosh Maddahi, a Beverly Hills dentist and cosmetic dentistry expert recently released an important book on how to maintain and recover a youthful smile. Maddahi is the author of Anti-Aging Dentistry: Restoring Youth, One Smile at a Time (2014) which became a #1 bestseller on Amazon.com recently in 9 different categories, including holding the #1 spot in Dentistry.
Dr. Maddahi believes "de-aging your smile" can take years off your face and may be a better solution than Botox, fillers or cosmetic surgery. A dentist for 27 years, he has specialized in cosmetic dentistry. Like most cosmetic dentists, he started out doing common procedures such as straightening teeth with the use of porcelain veneers and crowns, which would drastically improve the patient's smile, their confidence and even outlook on life.
Over time, and with experience, he began to introduce more artistry into his practice by utilizing these veneers and crowns to move the teeth into the correct position where they may have been tilted in, or lengthen the teeth back to their original length if they had worn down over the years. He noticed that this made very affective differences in his patients' faces and appeared undo any aging in the lower third of their face. In short, Dr. Maddahi discovered that by changing the shape and length of the teeth, and correcting arch to give back support to their mouth and cheeks, he could take years off their look and provide them with a much more permanent solution without plastic surgery or other procedures. He became the father of what is now known as "anti-aging dentistry."
In his book, Dr. Maddahi offers a collection of simple tips anyone can use to maintain a youthful smile, as well as advice on what to look for in a dentist when considering cosmetic procedures. He also explains different options that patients seeking to restore their smile have and talks about why someone might choose one path over another in the journey to create a youthful smile.
According to Dr. Maddahi, "When you go back to the explosion of Starbucks and the increased drinking of green tea, red wine and juicing, what happens to teeth is that they get stained and begin to grey. The grey coloring is one of the most aging things that can happen to teeth. This type of discoloration and staining is easily preventable. For example, when juicing they could use a thick straw, which would protect the front of the teeth by taking the staining liquid past them. For coffee and tea drinkers, they should drink out of a cup with a lid which would protect the teeth in the same manner."
While Dr. Maddahi agrees that most people know about whitening their teeth, and many have seen makeover shows where veneers and crowns are used to transform a smile, he goes much further in his smile transformations. His tips go well beyond the common advice to whiten your teeth to look younger, Dr. Maddahi wrote his book to educate consumers about the myriad of options that are available to completely transform their smile, and to explain in a simple and comprehensive fashion that one can reverse much unwanted aging in the face by treating and changing the position of the teeth. Not only do his patients look younger, but they look naturally younger. Most of his patients comment that their friends and family have a hard time figuring out what it is they have had done to make them look so much more youthful.
After graduating with honors from UCLA in 1983, Dr. Maddahi went on to complete his dental degree at the University of Southern California School of Dentistry and, in 1987, opened his dental office in Beverly Hills. Now, more than 25 years and 8 thousand patients later, Dr. Maddahi remains at the forefront of his field. His groundbreaking work has been featured on top television programs, such as Extreme Makeover London, Oprah, 10 Years Younger, ABC News, CBS News, and he has frequently been consulted for his expertise on various network news programs, such as KABC News, KTLA Morning News, and FOX's Good Day L.A.
To buy a copy of Dr. Maddahi's book, visit Amazon.com at: http://www.amazon.com/Anti-Aging-Dentistry-Restoring-Youth-Smile/dp/099162520X.