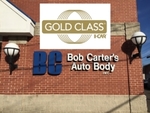 This designation comes as the result of numerous hours of training and testing by I-CAR, the Inter-Industry Conference on Auto Collision Repair. Bob Carter's Auto Body of Downers Grove has earned the I-CAR Gold Designation, recognizing them for outstanding commitment to proper and safe auto body repair.
In the course of almost a year, each technician was required to complete and pass a minimum of 6 hours of classes, while 4 specialists took and passed up to 12 or 14 hours of class. The type and location of classes varied, with some online, some virtual, some on-site at I-CAR training headquarters, and some hands-on as well. Owner Bob Carter states, "The classroom training is just as meaningful as the hands-on training because you need to know what you are doing, you need the technical knowledge to pass the class."
By undergoing the process to achieve I-CAR Gold, everyone at the shop deepened their already considerable knowledge of how to properly repair cars. What's recommended, how to determine and assess damage properly. And then to make sure that they have the appropriate person assigned to do the repair, qualified in that particular area. Because of this they are required to have four specialists: Structural, Non-Structural, Refinish, and an Estimator who knows how to assess damage, including hidden damage.
Bob Carter's Auto Body had years ago specialized their staff into body straightening and painting departments; this further specialization is needed in response to rapidly changing vehicle materials and technology. Bob Carter is grateful to everyone who participated in working to achieve this designation. Their effort and time are much appreciated.
This I-CAR Gold recognition is conferred for a period of one year. During each year the technicians and specialists are required to successfully complete additional classes to remain eligible for renewal of the designation each year. This assures drivers that no matter how technically-advanced their vehicle is, Bob Carter's Auto Body can make it roadworthy and safe after an accident.
About I-CAR
Bob Carter states, "There's a few other training sites and a whole host of vendor-sponsored training programs out there, but this is the only one that's really not affiliated with any product or vendor. They get data from manufacturers on how to repair their cars, but they're not biased one way or another on such things as whose frame machine to use or whose welding equipment to use. They just want to make sure that you're doing it the right way and have the proper equipment, whatever brand it is."
"I-CAR, the Inter-Industry Conference on Auto Collision Repair, is an international not-for-profit organization dedicated to providing the information, knowledge and skills required to perform complete, safe and quality repairs." -https//www.goldclass.com Insurance companies also send their people to I-CAR classes to learn about the process of how to repair a car properly.
About Bob Carter's Auto Body
One of the most trusted auto body repair facilities in the Downers Grove area, Bob Carter's Auto Body, Inc. maintains the highest standards of collision repair and customer service. Bob Carter began repairing wrecked cars in his Downers Grove auto body shop in 1975 and was later joined by son Bob Carter. Bob's son Mike now works side by side with him. Their reputation and their commitment to excellent customer service – before, during, and after the repair – are backed by a written repair warranty.
To learn more about the company or to procure their services, visit their website http://bobcartersautobody.com/repair-services/ or contact them via 630-352-3578.
Location Info:
Bob Carter's Auto Body Inc
4309 Fairview Ave, Downers Grove, IL 60515
(630) 852-3578